Oct
31
I think you can probably recall a few months ago, back when I was following along with Project Runway and participating in a challenge with HP where I recreated each week's look on my own. And you can probably remember me getting ridiculously excited about having the chance to attend Fashion Week and the filming of the finale runway show, yes? I thought so.
I wanted to wait until the finale aired before sharing about the trip, not because I knew anymore about who won than the average viewer (it was packed with dummy collections from the other contestants) but because everyone else participating shared right away and I thought it might be overkill. Okay, I knew it would be. On that note, it's about to get pretty photo-heavy right here and right now.
After my bad travel karma when I flew to Seattle in July, I begged an early flight to NYC. HP listened, and I was on my way bright and early at 6:30 a.m. I snapped this shot of the Oklahoma sunrise as we took off over the city.
HP put us up at the Empire Hotel, located just across the street from Lincoln Center where tons of NYFW events go down. This was the view from my hotel room, which was sort of odd with the tiniest bathroom ever but nice nonetheless. Did you see the view?! Totally made up for any shortcomings.
And this was the gorgeous wallpaper in the hallways. Anyone know who it's by?
The HP team didn't arrive until after the bloggers – Jaime, Megan, Ez, Susan, and myself. But when they did were were welcomed with gift bags full of essentials (snacks!) and HP Minis to use for the next few days. Before I knew it there was champagne and more appetizers than I could handle in front of my eyes. And that was just the start of the all-star treatment we received the entire time. Seriously, other PR teams should take a note out of their book (Edelman, for those interested!).
After a lightning fast shower we all went our ways and attacked Fashion's Night Out, which I can only define as trick or treating for fashionable adults. Events were going on every way you turned, but Jaime and I opted to tackle part of lower 5th Avenue.
I loved all of the carefully executed installations and parties, but it's all sort of a blur. I definitely remember going into Madewell, Free People (two photos above), Anthropologie, Barney's (OMG, the shoe department!), and Barnes & Noble for a very pregnant Jaime to pee. Afterwards we rounded out the evening with a stop at Starbucks and girl talk, then Duane Reade (Which I miss horribly – when did they get a freezer section?!) for essentials.
PHOTO: Megan Reardon
The next day kicked off bright and early with the HP team waiting in the hotel lobby and bearing Starbucks. We were off across the street to Lincoln Center where the Project Runway runway finale was filming. We were sort of herded through like VIP cattle, and freebies were flowing everywhere. (I stuck to the bottled water.) The runway tent was positively alive with energy and smiles. Above are me, Megan, and Jaime standing on the actual runway.
Once we were told the show was going to start everyone scrambled to their seats, we were pleasantly surprised that ours was two sections from the front and only six rows up! This was my view across the way. I spent a good fifteen minutes celeb spotting – Jennifer Love Hewitt, Andy McDowell, Malin Akerman, Swizz Beats, Omarion, Betsey Johnson, and a slew of former Project Runway designers.
PHOTO: Megan Reardon
Then the lights dimmed and the real wait began.
PHOTO: Megan Reardon
And out poured Heidi Klum, Nina Garcia, Michael Kors, and the guest judge. They all immediately filed towards the end of the runway which was press central for photos.
PHOTO: Jaime Derringer
One of my favorite collections was Anthony Ryan's. He's been my favorite for a good part of the season and I couldn't help but think he completely nailed it. Not only the collection, but the idea of putting on a show. All of his models with the exception of the one wearing the keystone piece wore blunt cut wigs. And my favorite part of the entire show were his blue airbrushed wrists. I had a chance to ask him about them the next night at the reunion party and he said he wanted tough girls, girls who would have tattoos, and that this is one of the ways he expressed that. I want to mimic it so badly on my own arm!
PHOTO: Jaime Derringer
You might be wondering how I got these amazing shots at the end of the runway. You can thank Jaime's bladder. She had to get up to use the restroom just before the show started and they wouldn't let her back to her seat!
PHOTO: Jaime Derringer
I was struck by just how black the tent became, and how much focus was drawn the runway by lighting alone.
PHOTO: Jaime Derringer
PHOTO: Jaime Derringer
The show consisted of the last nine contestants standing and lasted about an hour. Once it wrapped Heidi informed us that they were headed back to Parson's to choose the winner and that was that! Sort of a letdown, but cool nonetheless.
PHOTO: Jaime Derringer
For lunch HP took us to chef Jonathan Benno's Lincoln restaurant, also a part of the Lincoln Plaza complex. It had us wrapped around its little finger before we ever walked in the door with its modern architecture and reflecting pool. See the grass up there? That's the roof. (I had a chance to spend some time with Martin of CMYBacon later on that evening.)
PHOTO: Jaime Derringer
And no big deal, but that's Julliard right behind it.
We split our group into two tables and had the best conversations. It honestly felt like a group of friends getting together, the farthest thing from a PR luncheon.
The courses were small, but oh so decadent. I started with focaccia and a greens salad (not picture), then moved on to the best gnudi filled with ricotta cheese and root vegetables. Dessert was a chocolate hazelnut torta and cappuccino. Two and half hours from start to finish and I felt like I might die by the end. So good.
Believe it or not there were other things besides food and fashion happening, I just didn't think to photograph them because I was having way too much fun. Saturday the lovely Melissa of Operation Nice took the train up from Phillie to have lunch with me. We stayed on the Upper West Side and lunched at Rosa Mexicano. This photo is part of a massive 20 x 20′ (total guess) water wall that had row upon row of diving figurines. The ones at the top started straight up and down and each row gradually descended until they were in a full-on vertical dive. I was obsessed. Oh, and Melissa? Just as nice (and as real) as her blog name suggests.
After three hours of chit chat I had to dash off for another date, this one with Jessie of The Concrete Catwalk and Caroline of Sweet Caroline in the City – both total fashionistas. We partook in a bit of pampering at the Rue La La/It Gets Better Project festivities that were also taking place at the Empire Hotel. I had a hand massage and then my makeup was done by an Emmy award-winning artist. Not too shabby!
And now a quick glance at what Fashion Week can do to one's feet. I think it was Emily who suggested Band-Aid create a whole foot bandage for the event. Someone needs to Kickstart that right now.
And then it was time for the HP/Project Runway Reunion Party on the rooftop of the Empire Hotel. HP did a stellar job of converting the already gorgeous space into a sophisticated land of technology with touchscreens everywhere you looked and a cocktail menu with drinks named after the judges.
PHOTO: HP
Oh, and a red carpet which was the single most surreal moment of my life.
This was our view and the weather was perfect. (Contrary to weather reports that it was supposed to rain for the entire four days I was in town, it didn't until Megan and I were headed to the airport the next day.)
PHOTO: Jaime Derringer
Our designs from the season were rotating on a Touchscreen while the contestants were on another.
PHOTO: Jaime Derringer
PHOTO: Jaime Derringer
Like any good party thrown in 2011, there was of course a photo booth with props. After snapping away you could walk over to a row of HPs to print them out and email the shots to yourself! Jaime and I of course took full advantage.
PHOTO: Jaime Derringer
It was a blast people watching and trying to decide if someone was someone.
I especially loved this gal's Betsey Johnson number. Her shoes were horrendous, but I was too focused on the tulle skirt to pay much mind to them.
PHOTO: Jaime Derringer
Have you noticed all of the photo credits yet? I did in fact bring my camera to New York, but never once took it out of my suitcase.
Of course there were party favors, a sweet pair of carbon blade scissors and a plaque commemorating the event. The designers in attendance walked away with their own HP Mini!
Sunday morning I met up with Susan from House of Brinson and Shayna of Pattern Pulp for an amazing brunch at Tipsy Parson.
Joanna of A Cup of Jo was supposed to join us, but had to bail at the last minute so she had this massive tray of goodies sent to our table in her stead. Such a sweetheart. I had their decadent mac and cheese which I highly recommend. (This is the point in the story where I let you know that I completely understand if you think all I did was go out to eat a bunch on my own. Because instead of taking photos of the lovely people I was with I focused  on the eats.)
And that was it. The end of the adventure. Megan and I were picked up at the hotel and taken to the airport for our rendezvous. I watched the Steelers lose their first game of the season in between flights, ate some Taco Bell, then hobbled home on my maladjusted tootsies.
This past Friday I had the chance to submit a few questions for a sit down HP was having with the winner, Anya Ayoung Chee.
Other than yourself, who was your favorite to win?
Having seen Laura's collection, even though she wasn't in the top four, I really think that she could have won. Her collection was super strong.
Which challenge do you wish you had the chance to do over again?
I think I could have done a much better job at the Garnier Sheep Dog challenge, but I wouldn't necessarily want to do it over.
How does creating fashion inspire other areas of creativity in your life?
I like to experiment with different art forms. It usually goes the other way around, and I experiment with other art forms like photography or film and it influences my designs. I find that one way or another all of my influences come back together in my work.
Sep
12
Okay, okay, okay. You twisted my arm. Here I am with Jaime Derringer of Design Milk, Ez Pudewa of Creature Comforts, Susan Petersen of Freshly Picked, and Megan Reardon of not martha at the Project Runway/HP Designer Reunion Party Saturday night on the rooftop of the Empire Hotel (where we also stayed). Being on the red (technically hot pink) carpet? Single most surreal moment of my life.
Sep
12
The latest Project Runway episode was the HP/Intel pattern challenge. And let me start off by saying it was the most difficult for a few reasons.
1. We had to turn it in two weeks early, without seeing the episode and the full parameters.
2. We didn't have the same Intel program the designers used because it's not for sale.
But we also got off easy because we neither had to work in a team of five, create several looks, or a shoot a video for the models to walk to during the runway show. So I guess things evened out in the end.
I had to cheat a little and design my pattern in Illustrator, simple because I wanted it to look clean and that's not something I was able to do on the Touch Screen in Art Rage. Here's the result:
I went with a mod minidress that ended up being sort of an updated Breakfast at Tiffany's look once I used the Piperlime wall to accessorize. In the end I was surprisingly happy with the result.
If you've been following along from the start, you know that last Friday I had the opportunity to attend the Project Runway finale runway show at New York Fashion Week. And wow, what an amazing experience. But I'll be saving all that to share until the finale airs, along with the Project Runway Reunion party that took place Saturday night. This will also be the last challenge I'll be participating in – I'm saying auf wiedersehen for now!
If you'd like to see all of my creations, check them out here. And if you haven't seen this past week's episode you can catch it right now.
Full Disclosure: HP provided me with a TouchSmart 610 for use. All content and opinions are mine. I have not been financially compensated by HP or Project Runway.
Sep
06
This past week's challenge on Project Runway was mega creative and I loved it. Each contestant was paired with a student from the Harlem School of the Arts who created a special painting that was to be the inspiration for each designer's avant-garde look. I wasn't lucky enough to be able to pair with a student, but I was lucky enough to have the honor of using a painting by my lovely friend Lisa Congdon.
Check out her Red Garage, breathtaking isn't it?
The idea was to create a look inspired by, but not mimicking, the painting. I chose a heavy white canvas as the base fabric for my large, flowing skirt. Then I attached rectangular cut pieces of fabric in all the colors represented in the barn and attached them with a hot glue gun (not enough time to sew them all on!) in a brick-like pattern. For the top I went with a raw silk the color of an overcast sky (poetic, no?) and created a voluminous half-sleeved, cropped blouse with a curvy abstract neckline. I then painted some abstract "trees" reaching up into the "sky" of it all. "Avant-garde" design is described as something you wouldn't really see people on the streets wearing, but would definitely see on the runway or Lady Gaga. I think this is right along those lines, for sure.
From the Piperlime accessories wall I went with the Ivory Horn necklace from Hive & Honey and the Dimora heels from Charles David.
Later this week I'll be jetting off to New York Fashion Week and the taping of this season's Project Runway finale! And don't worry, I'll be bringing back a full report. If you haven't seen my designs from the season up to this point, you can check them out here. And if you need to catch up on the season you can watch full episodes for free right online.
Full Disclosure: HP provided me with a TouchSmart 610 for use. All content and opinions are mine. I have not been financially compensated by HP or Project Runway.
Aug
29
As I sat down to watch this past week's episode of Project Runway, I was already feeling creatively stumped. But the second they announced the challenge (but only after making the designers run around an indoor track) I had no ideas whatsoever. The task assigned was to create an outfit – actually three, but I'm only one person here not a team – using denim and/or suede to be worn with Heidi's upcoming line of New Balance sneakers.
It quickly became apparent that Heidi wasn't looking for something athletic, but rather an outfit that felt right with the shoes. A serious challenge. Out the window went my past strategy of sketching along during the show and in came the oh-my-god-I-need-to-make-SOMETHING mentality. After about three attempts while sitting down at the HP Touch Screen 610, I came up with this:
I created a sleeveless knee-length ombre suede dress in a tan to olive gradient. It features a deep scoop neck, off-center front slit, and oversize armholes.  I then topped it with a cropped black denim jacket with three quarter length sleeves, a banded collar, and copper stud work along the front. To complete the challenge I paired it all with the 410 sneaker in black.
If you haven't watched Episode 5 yet, catch up right here. You can also see all of my past designs here.
Full Disclosure: HP provided me with a TouchSmart 610 for use. All content and opinions are mine. I have not been financially compensated by HP or Project Runway.
Aug
22
There is no greater design terror than being charged with creating something specifically for your boss's personal use.
Enter the Nina Garcia Day-to-Night Challenge and my least favorite judge. The garment we were creating needed to be something that would easily transition from day to night wear.
Turns out Nina was a nightmare client (shocking) and started by immediately rambling off a long list of what she does not like – pattern, color, basically anything of interest. Luckily, each contestant was treated to a one-on-one consultation with Ms. Garcia after the sketch phase. To which she showed up wearing a bright orange blouse with patterned sweater vest. Oh, the hypocrisy! Nina then proceeded to lead each and every designer down a path of wrong direction.
After making notes and sketches while watching the episode, I got to work on the HP Touch Smart 610. This is the first week where my final garment ended up diverting from my sketch fairly drastically. I blame some of this on the overly opinionated eye of my naked assistant who was heavy with the over the shoulder critiques.
I started off with a sort of A-line shift, fitted on top and created out of heavy black canvas. A risqué and edgy choice of material perhaps, but I've played it fairly safe so far. I then lined the piece in gold silk and added a one inch wide zipper about four inches off-center to the entire length of the piece. When zipped the dress remains corporate, yet sassy. And when unzipped slightly the neckline folds over to reveal the gold lining and play up a little sex appeal.
I kept things neutral at the Piperlime accessories wall and choose Nine West Gracious booties in toasted taupe, Hive & Honey's hammered metal cuff bracelet, and Juicy Couture's antique openwork ring.
If you haven't caught episode 4 you can watch it right here.
Full Disclosure: HP provided me with a TouchSmart 610 for use. All content and opinions are mine. I have not been financially compensated by HP or Project Runway.
Aug
15
Three weeks into the Project Runway challenge and I feel like I'm getting the hang of this thing. I feel much more inspired if I sketch out ideas as I'm watching the show, and creating my design on the HP TouchScreen 610 is taking significantly less time. This week the contestants were tasked with creating a garment for a stiltwalker. I know. Not only were they fighting the shear height of the model, but they also had to take into consideration that it's easy to get tripped up – literally – while walking in too much fabric. (The PR contestants were paired off for this challenge, I'm working solo.) After a brainstorming session everyone was off to Mood with a $500 budget.
Right off the bat I knew that I wanted something with movement and volume. Color blocking also seemed like a great idea. I started off by making a long strapless A-line dress in bright poppy red raw silk. With the dress form considerably more close-fitting than the volume I was about to create, I hoped to lessen the chance of the model falling. Once finished I started attaching tiers of gathered matching red netting from the waist down, then I proceeded to attach neon pink in the opposite direction from the waist up. No need for killer shoes with this outfit, so I finished everything off with a skinny snake belt from the Piperlime wall. Here's the result:
 Thoughts? What would you have created?
Watch episode 3 here and see my designs from weeks 1 and 2 here.
Full Disclosure: HP provided me with a TouchSmart 610 for use. All content and opinions are mine. I have not been financially compensated by HP or Project Runway.
Aug
08
After watching this week's episode of Project Runway, I felt much more inspired and confident than the last. I actually started sketching ideas out and making notes while I was watching and tweeting and I think that was the biggest help. I also felt better acquainted with my HP TouchSmart 610, and more of my attention was focused on my design instead of how to create my design.
This week's challenge started off with a trip to a discount pet supply store. Everyone (including me) immediately thought they were going to be designing for animals. Huh-uh, WRONG. Each designer was given a $300 budget and told to buy pet to supplies to create their garment, muslin was also allowed for the base fabric.
What I Bought:
• 1 leather leash
• 2 dog beds
• 10 lbs. black fish gravel
• 2 lbs. white fish gravel
First, I took the dog beds apart at the seams and created a form-fitting shift from the black fabric backing. The side seams have round edges and three inch slits. Then, creating what might be the heaviest mini-dress in history, I took the black fish gravel and hot glued it to majority of the dress. I made sure to leave a four inch wide panel untouched in the front to attached the white gravel, which I had previously spray painted gold. Then I took my leather leash, painted it gold as well, and created a crisscrossed halter to help hold (the imagined) weight of the dress up.
Shoes: Wess by Sam Edelman
Bracelets: Omens Bracelets by Gretchen Jones
Ring: Color Block Bolt Ring by Marc by Marc Jacobs
This week I also ventured into the land of piperlime shoes and accessories that the contestants have access to. I wanted the shoes to be dramatic without taking away from the garment. The jewelry also needed to be fairly simplistic, and I love these pieces.
So there you have it! Did you watch this week? What would you have created?
You can check out my Week 1 outfit here.
Full Disclosure: HP provided me with a TouchSmart 610 for use. All content and opinions are mine. I have not been financially compensated by HP or Project Runway.
Aug
01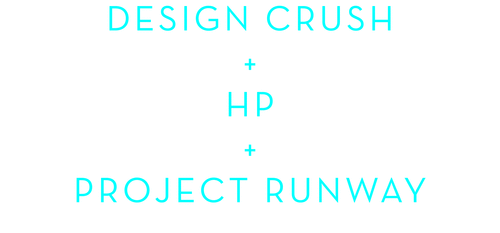 One of my favorite parts of this community are the relationships that are built not only between bloggers and readers, but with brands.  I had a chance to meet up and chat with some of the swell people behind HP just this past January when they showed me their latest line of products at Alt. One of those things was their rad TouchScreen technology that's featured on the show Project Runway. A few weeks ago HP contacted me to see if I'd be interested in giving their TouchScreen 610 a test-run for a few months by sharing weekly posts created on it, keeping in line with the Project Runway theme for that week. Being not only a design nerd, but a tech geek I was all over it.
Having been a Mac girl for all but my freshman year of college, I wasn't exactly sure what to expect from the new TouchScreen when it showed up. At all. Was it going to be massive and bulky? Have lots of cords and extra stuff that I had no idea what to do with? No and no. In fact, the set up as far as components go really reminds me of my iMac at the office. Monitor and processor happily co-exist as one piece, then there's a wireless mouse and keyboard. Really easy setup. And get this… the monitor flat-out pivots. It makes working in the drawing program loads easier, and more like drawing on a sketchbook. And I'd be remiss not to mention the incredible 23″ monitor.
First lesson learned, I am no fashion designer. I know what I like when I see it, but I don't have that sort of design vision. Second lesson, using the TouchSmart is very different from my beloved Adobe Creative Suite programs. You can let your fingers do the work on the screen, but I opted for a stylus (from my ancient Palm Pilot!). It took me awhile to get the hang of things, including what command stands in for Control Z on a PC. After about an hour of messing around, this is what I came up with.
For the first week I thought I'd take things very literally and go right along with the challenge. The contestants were woken up in the middle of the night for this one. I sleep in a white Hanes tee most nights and my queen-sized sheets area always white – I totally lucked out. They have access to fabric dyes, so I "dyed" my sheet poppy red and created a floor length gown out of it with a plunging neckline, pockets, and a bit of bustle in the back. My shirt got dyed a goldenrod yellow and was fashioned into a fitted, bunched belt around the waist. Not the most daring of fashion ideas, but I'm pleased with it for a first go 'round.
What would you have created?
Starting today and carrying on through the next several Mondays, this is what you'll be seeing here. I'm going to do my best not to stick to one "formatted" technique of my take on the weekly challenge, I really want to mix it up a little and keep things interesting. I'm also really looking forward to flexing my art and design muscles in an entirely different way than I'm used to!
(Watch the full episode if you'd like – Team Bert!)
Full Disclosure: HP provided me with a TouchSmart 610 for use. All content and opinions are mine. I have not been financially compensated by HP or Project Runway.